Enable fast and efficient deliveries of your orders with our on-demands delivery services partners; Lalamove and Borzo. You can now book riders just from Yezza app!
In this article:
FAQ
Q: Customer already paid for the order. Will the rider immediately come to pick up the order?
No. You will have to perform all the steps of booking a rider after an order is confirmed. The rider will then come depending on the time scheduled when you arrange the shipment.
Q: Who will receive the delivery charge?
Total payment which has included delivery charge will be credited to the seller. The seller will then make a payment to the delivery service partner when booking a rider.
Q: Do I need to have a Lalamove account?
No, you don't need to have a Lalamove account to book a rider using Yezza Shipping.
Q: Can I use other services/riders other than Lalamove/Borzo?
At the moment, Yezza Shipping only supports Lalamove and Borzo. If you wish to use other local delivery services, you may setup your manual rates. Refer here.
Or, you can still use Lalamove/Borzo automatic rates but arrange your delivery using other party. Once the item is delivered, change the Order Status to 'Received' manually.
Q: Why do the rates differ during the order and book are made?
Since Lalamove is an on-demand delivery, the rate fluctuates according to peak hours. This situation is out of our control. However, we may suggest you to mark-up the rate around RM1 - RM2 to cover the difference.
Q: How to cancel the rider booking and get a refund?
Fulfil Your Orders
All paid orders will appear at your 'Manage' > 'Orders' menu and are ready for fulfilment. To start arranging for shipment, follow below steps:
1. Go to 'Manage' > 'Orders'.
2. Select an order.
3. Click 'Arrange Shipment'.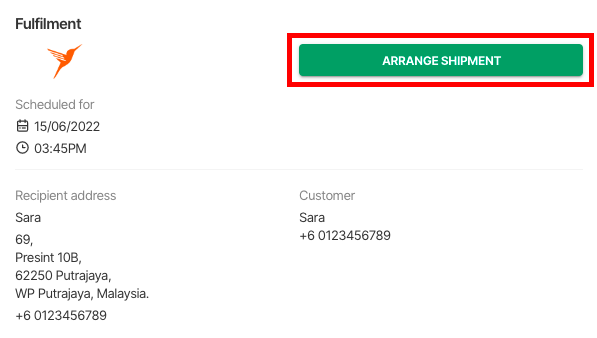 4. You will see your Yezza Shipping Credit Balance here. If the amount is insufficient, kindly reload before proceed.
5. Users are able to edit the pick up date & time too at this menu.
6. Click 'Pay Now' if the details are correct.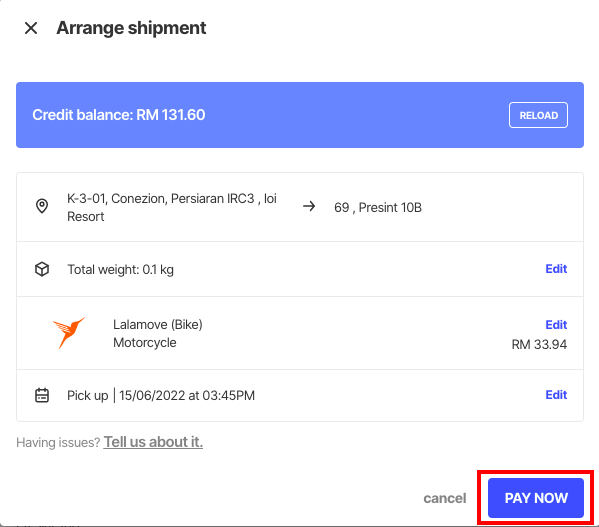 7. Lalamove will find you a rider within 5 minutes. Your credit balance will only be deducted if a rider has been assigned to your order.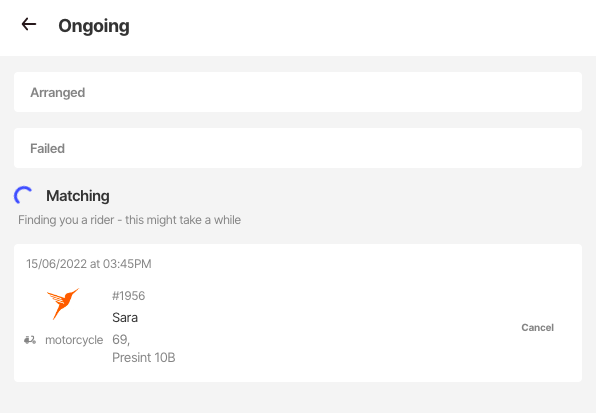 8. If no rider is found within 5 minutes, the status will change to 'Failed'. You may click the 'Retry' button to find another rider.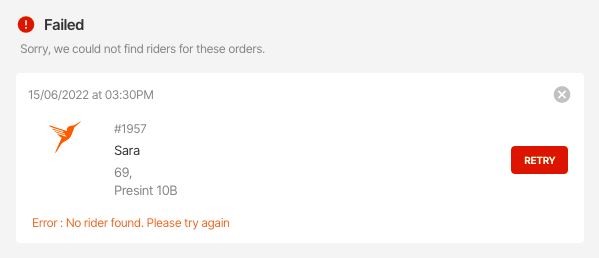 9. Your delivery arrangement is successful once the status changes to 'Arranged'. You will be able to view the real-time tracking. An SMS with a tracking link too will be automatically sent to the customer.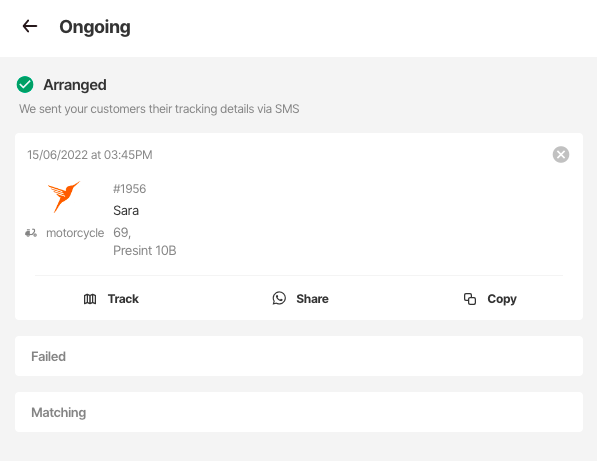 10. Next, all you need to do is wait for the rider to pickup the order.